The Religious Education program at Our Lady of Soledad Parish is essential to carrying out the Parish mission; to teach and preach the gospel to all people while celebrating our cultural traditions and diversity. The aim is to put people not only in touch but in communion, in intimacy, with Jesus Christ. Parents, through word and example, are the first and foremost primary educators of their children. Our program helps parents in their work by teaching our rich Catholic doctrine and heritage. This process is carried out through group sessions and teaching, participation in prayer, special celebrations and worship opportunities, and service to others. In this way, the child is led to a closer relationship with God, other children, and the total Catholic faith community. Goals of Our Lady of Soledad Religious Education Program.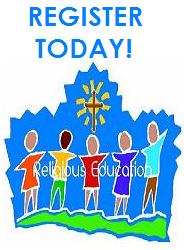 To promote knowledge of faith
To assist in the comprehension and experience of liturgical celebrations
To promote the moral formation in Jesus Christ
To teach the Christian how to pray with Christ
To prepare the Christian to live in a community and to participate actively in the life and mission of the Church.
To promote a missionary spirit that prepares the faithful to be present as Christians in society. (National Directory of Catechesis, Goals of Catechesis, 2020)
---
Sacrament Registrations are now closed.