Religious Flims
Thea Bowman PREVIEW (Full video coming this fall)
Synod 2021
See Bishop Rojas, invitation below and visit the website for more information https://www.synod.va/en.html
Deadline extended for the first phase of the synodal process: https://www.vaticannews.va/en/vatican-city/news/2021-10/synod-extension-first-phase-general-secretariat.html
The General Secretariat for the Synod of Bishops extends the deadline for the first phase of the synodal process to 15 August 2022.
By Vatican News staff writer
In order to "provide a greater opportunity for the people of God to have an authentic experience of listening and dialogue" during the recently launched synodal process, the General Secretariat of the Synod of Bishops has decided to extend the deadline of the first phase.
In a statement on Friday, the General Secretariat of the Synod of Bishops said that it has extended "the deadline for the presentation of the synthesis of the consultations by the Episcopal Conference, the Oriental Catholic Churches sui iuris and other ecclesial bodies" to 15 August 2022.
The statement notes that extension comes in response to numerous communications from various quarters in these first weeks of the synodal process requesting an extension of the duration of the first phase.
These communications, the statement says, "are truly an encouraging confirmation of those in the Church who are committed to celebrating the first phase of the synodal process… constituted by the consultation of the People of God."
Further explaining the decision to extend the deadline, the General Secretariat of the Synod of Bishops notes that it evaluated the requests, always seeking the good of the Church, "aware that a synodal Church is a Church that listens, and considering that this first phase is essential for this synodal path."
The Synodal process
Pope Francis officially launched the two-year synodal process, themed "For a Synodal Church: Communion, Participation and Mission," on Sunday, 10 October.
A week later, on 17 October, the diocesan phase was kicked off in dioceses across the world.
The initial deadline for the presentation of the synthesis on the part of the Synods of Oriental Churches and the Episcopal Conferences was April 2022 but this latest decision from the General Secretariat extends the first phase deadline by four months.
A second, continental phase will take place from September 2022 to March 2023, while the third, universal phase will begin with the XVI Ordinary General Assembly of the Synod of Bishops in October 2023.
Answering our Church's Call to Combat Human Trafficking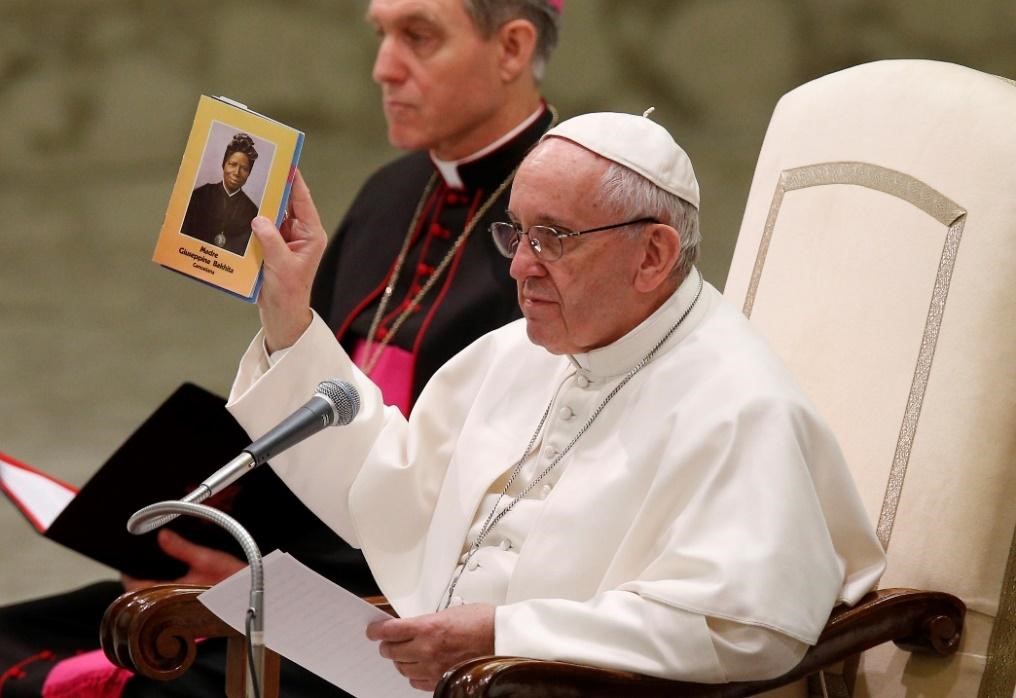 CNS photo/Paul Haring
"The Catholic Church intends to intervene in every phase of the trafficking of human beings; she wants to protect them from deception and solicitation; she wants to find them and free them when they are transported and reduced to slavery; she wants to assist them once they are freed."
– Pope Francis, Address to Participants in the World Day of Prayer, Reflection and Action against Human Trafficking, 2018
Answering our Church's Call to Combat Human Trafficking
By Hilary Chester and Lisa Lungren
USCCB Anti-Trafficking, Migration and Refugee Services
One of the most hidden and vulnerable populations our Church is called to accompany and protect our women, men, and children subjected to human trafficking. Also referred to as modern-day slavery, this illicit industry generates over 150 billion dollars a year by compelling human beings to perform backbreaking labor or engage in commercial sex acts. Contrary to public perception, these brothers and sisters of ours are not only trapped through physical force, yet also many times by insidious schemes such as fraud and coercion. In other words, traffickers prey upon the vulnerable with false promises of a better life, threat of harm or death against their loved ones, withholding identify documents, tricking them into thinking they owe more debt, and more.
Our baptismal call to promote human dignity teaches us that every life is a gift from God and sacred, and as such, deserves to be protected and nurtured. Human trafficking—where men, women, and children are bought and sold like merchandise—inherently rejects this principle, showing absolute contempt for the human condition. Thus, the Second Vatican Council's Pastoral Constitution on the Church in the Modern World denounces all conditions where people "are treated as mere tools for profit rather than free and responsible persons" as "infamies" and a "supreme dishonor to the creator".
The elimination of human trafficking is a priority issue of the Catholic Church. We can turn to the Church's most recent papal leaders for guidance. Pope John Paul II, Pope Benedict XVI, and Pope Francis have each publicly decried trafficking in persons, calling for its eradication and for the protection of survivors. Pope Francis has spoken with particular urgency about our responsibility as Catholics and people of goodwill to not look the other way. Archbishop Bernadito Auza, former representative of the Holy See at the United Nations, clearly delineates Pope Francis' message which urges us to be present to and take action against this crime:
Human trafficking is a crime that is happening in our local communities
Root causes are economic, environmental, ethical, and political in nature
Trafficking takes advantage of a widespread culture of indifference and exclusion
Now is the time for action against modern-day slavery
Action must involve everyone
The good news is that as the Vatican – as well as the U.S. Bishops, and our country's religious sisters – amplify their cry against what Pope Francis describes as "a wound against contemporary society," a growing number of Catholics are anxious to become involved in its eradication. There are a multitude of options available for each and every one of us to get started today:
Pray: Observe February 8th when Catholics around the world are encouraged to host or attend prayer services on the International Day of Prayer and Awareness against Human Trafficking. February 8 also coincides with the Feast Day of St. Josephine Bakhita. St. Bakhita's trajectory from years of cruel enslavement in Sudan to freedom in Italy led her to experience the love of God through Christ and to become a shepherd for many others. Join us as we partner with the John J. Brunetti Human Trafficking Academy at St. Thomas University College of Law for an online morning prayer service, survivors' panel, and mass!
Grow in Awareness: Read and reflect upon the Pastoral Orientations on Human Trafficking, a publication authored by the Migrants and Refugees Section of the Vatican. These guidelines offer an in-depth reading and comprehension of modern-day slavery to serve as an encouragement to Catholic anti-trafficking ministries.
Engage: Help your parish, diocese, or community group become involved in local anti-trafficking efforts! The 'Become a SHEPHERD' resources from USCCB contain an array of materials to help you with awareness-raising and direct engagement through service and advocacy.
Questions on how to build or expand upon your parish or diocese's anti-trafficking ministries? Please contact us at [email protected]. We are here to help you!
Hilary Chester, PhD is the Associate Director for Anti-Trafficking Programs, US Conference of Catholic Bishops/Migration and Refugee Services.
Lisa Lungren, MA is the National Outreach Coordinator, Immigration and Anti-Trafficking, US Conference of Catholic Bishops/Migration and Refugee Services.
Learn more about USCCB's Anti-Trafficking programs and efforts at https://www.usccb.org/topics/anti-trafficking-program.
---
Catholic Divorce Ministry Council
MISSION
We, the Catholic Divorce Ministry Council, serving under the Office of Marriage and Family Life Ministry, seek to expand and support ministry programs that will embrace families in transition due to divorce or separation. We will offer a spiritual and emotional path to healing through education and support to those in need of comfort and hope. Working in collaboration with clergy, parish, and lay/peer leadership, we will train facilitators, promote awareness, and offer resources for parish-based groups.
For more information visit http://www.sbmarriageinitiative.org/catholic-divorce-ministry
Catholic Burial Traditions
Prepare for Eternal Peach – Catholic Burial Traditions is a collaboration of Catholic teachings & resources from around the country, compiled into one website for use by all Catholic parishes, schools, RE classes, and groups. Designed to Educate & Preserve our Christian Values!
Free Online Resources Available to Start Utilizing Today https://catholicburialtraditions.org/
Diocese of San Bernardino
Click here to visit the Diocese of San Bernardino
Reporting sexual abuse of a child
By a priest, deacon, employee, or volunteer, call the toll-free Sexual Misconduct Hotline 1-888-206-9090.
Trinity Mission
Click here to learn about Trinity Missions
Click here to learn more about Trinity Missionary servants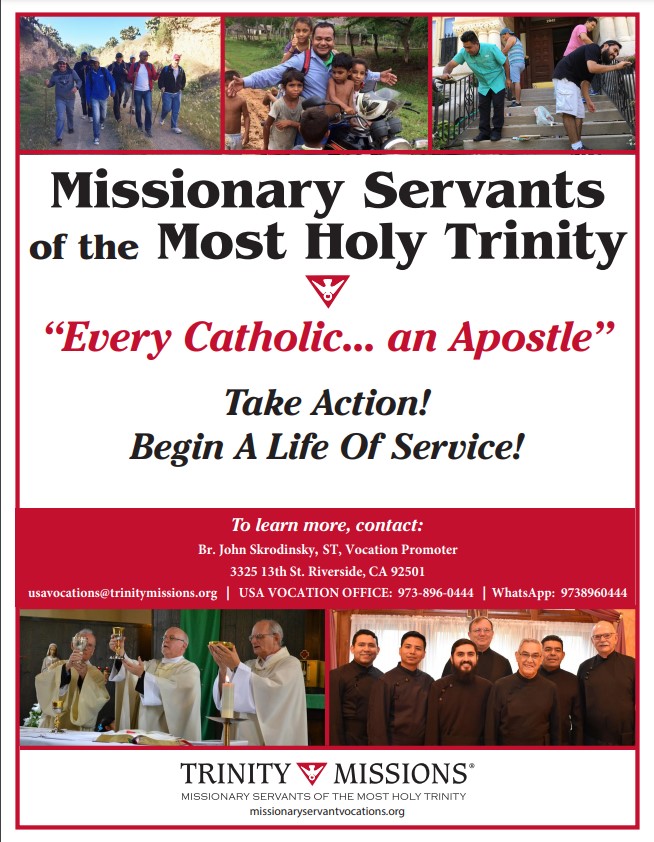 V ENCUENTRO
Click here to learn more about this Hispanic/Latino Ministry.
Valley Missionary Program (VMP)
Click here to learn more about the Valley Missionary Program.
VIRTUS
Click here for online registration/ access to online training